InnovationMatrix
About Ralph-Christian
Experienced innovation, technology and product management professional. Looking at the intersection of organizational and personal innovation capabilities. Integrative thinker. Boundary spanner. Author of the Integrative Innovation blog. You can follow him on Twitter @ralph_ohr.
Tim's Flipboard Page
Books
Free eBook! Using the Innovation Matrix
Collects all of my recent posts on the Innovation Matrix.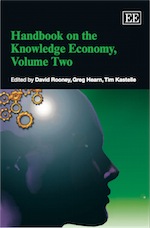 Tim's book Handbook on the Knowledge Economy, Volume 2, co-edited with David Rooney and Greg Hearn, is out now everywhere in the world. Ask your library for it!
Metrics
Tim was named #9 in the Top 40 Innovation Bloggers in 2013 at Innovation Excellence, #4 in 2012, #5 in 2011, and #14 in 2010.