After a string of innovation failures, LEGO nearly went out of business in 2003. Brick by Brick tells the story of how this happened, and how LEGO turned things around to become an innovation powerhouse again. There are some broad lessons that can be learned from this story.
Books
Free eBook! Using the Innovation Matrix
Collects all of my recent posts on the Innovation Matrix.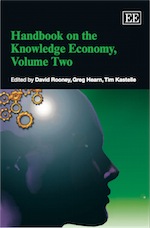 Tim's book Handbook on the Knowledge Economy, Volume 2, co-edited with David Rooney and Greg Hearn, is out now everywhere in the world. Ask your library for it!
Metrics
Tim was named #9 in the Top 40 Innovation Bloggers in 2013 at Innovation Excellence, #4 in 2012, #5 in 2011, and #14 in 2010.