Tag Archives | Everett Rogers

The best way to get ideas to spread has been around a long time: talk to people.

People often think that having a great idea is the hard part of innovating. Most of the time, this isn't the problem. Getting the new idea to spread is.
Tim's Flipboard Page
Books
Free eBook! Using the Innovation Matrix
Collects all of my recent posts on the Innovation Matrix.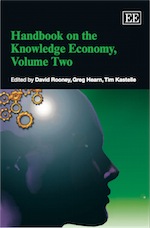 Tim's book Handbook on the Knowledge Economy, Volume 2, co-edited with David Rooney and Greg Hearn, is out now everywhere in the world. Ask your library for it!
Metrics
Tim was named #9 in the Top 40 Innovation Bloggers in 2013 at Innovation Excellence, #4 in 2012, #5 in 2011, and #14 in 2010.