Since the revelations that many stars of silicon valley are alumni of Montessori schools there has been a lot of interest in what managers can learn from the Montessori approach to education. I hadn't realized this until Tim told me but the founders of Google, Larry Page and Sergei Brin, Amazon CEO Jeff Bezos and Wikipedia founder Jimmy Wales are all members of the US creative elite called the "Montessori Mafia".
This seems to be more than a circumstantial relationship with a survey of 3000 executives of innovative companies showing that many were influenced by a Montessori education, as one of the authors of "The Innovator's DNA" tells in an Harvard Business Review interview.
A number of the innovative entrepreneurs also went to Montessori schools, where they learned to follow their curiosity. To paraphrase the famous Apple ad campaign, innovators not only learned early on to think different, they act different (and even talk different).
My own children have been fortunate enough to attend a Montessori preschool and as someone who works as a teacher I have been fascinated by the philosophy and techniques of Montessori education. When I tell my friends that my kids attend a Montessori school they immediately jump to the aspects of Montessori that make it seem so different from standard education practice. They ask about the way kids are free to choose what they want to do and are not pushed into any particular program of learning.
This is also the aspect of Montessori that business has tapped into. Employees should be allowed to follow their own ideas and giving them challenges allows them to develop. Employees need to be nurtured rather than measured and labeled.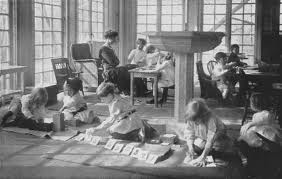 The encoragement of curiosity and self directed development is an important part of Montessori teaching philosophy but it is only one dimension. As one friend said to me before Christmas, 'this do-what-you-like stuff sounds really nice but aren't you worried that your kids won't learn anything? The classroom must be anarchy!'.
But that's the whole point. A good Montessori classroom is highly ordered and there is a big focus on what Maria Montessori called 'the prepared environment'. My son is in primary school this year but late last year I took the morning off work to spend time in his classroom. I suppose that I was expecting a chaotic environment too but spending an hour and a half seeing four-year old children moving calmly from activity to activity is really quite something with my first thought being 'why can't I do this at home?'.
The answer is that there is a lot of structure to the Montessori classroom that enables creativity and self-directed learning. The environment is prepared to support children to explore and learn under careful guidance. Activities or 'jobs' are designed to be used by children with shelves and desks placed at the right height and the room is set up so that there is space to work quietly or in groups, depending on the job. New activities are demonstrated and the rules for using the job are explained to the children.
The other part to this is that there has been a year or two of training for children to work in this way. Right from the beginning they are taught how to begin and finish a job in an orderly way. In a Montessori classroom there is no sense of 'anyone can do whatever they like' in a way that creates chaos and dysfunction.
Tim's recent posts on the innovation matrix talk about building innovation competence. A big mistake for organizations trying to be innovative is that they tell employees to innovate without creating a prepared environment for innovation. The prepared environment that creates innovation competence has many facets including the right people, tools, resources and rewards. It is structured but the structure supports experimentation and learning rather than dictating what will be learnt and what the experiment will be.
An important Montessori lesson for innovators is that if you want people to be innovative and creative then you need to create the structures and processes that will support them.