Tag Archives | Sturgeon

Theodore Sturgeon said "90% of everything is crud." This sounds cynical, but it actually leads to some important innovation lessons.

Do people love change or hate it? Are big firms better at innovation or are small ones? The answer to these questions is "both" – and we need to develop some skills for dealing with that.
Tim's Flipboard Page
Books
Free eBook! Using the Innovation Matrix
Collects all of my recent posts on the Innovation Matrix.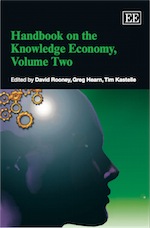 Tim's book Handbook on the Knowledge Economy, Volume 2, co-edited with David Rooney and Greg Hearn, is out now everywhere in the world. Ask your library for it!
Metrics
Tim was named #9 in the Top 40 Innovation Bloggers in 2013 at Innovation Excellence, #4 in 2012, #5 in 2011, and #14 in 2010.